HALO-LED™ Whole Home In-Duct Air Purifier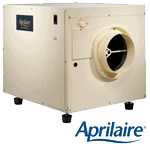 Too much humidity harms your immediate environment. Estimates suggest that the average family can produce over 11 liters of excess moisture every single day. While this affects the house in obvious ways, like mold, damp patches and spoiled surfaces, it also affects people's health in more important ways, aggravating conditions like asthma, arthritis and rheumatism.
Dehumidifiers work in tandem with your heating and cooling system to maintain desired humidity levels throughout your home. Maintaining proper humidity levels in your home is essential to maintaining indoor comfort during the summer months. Lower humidity levels make you feel
cooler at warmer temperatures, which means you can set your thermostat higher without sacrificing comfort.
Depending on the size of your home, we offer a variety of dehumidifiers to remove the right amount of moisture from the air.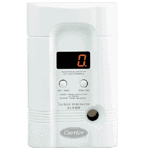 Carbon Monoxide (CO) is a colorless, odorless, and tasteless gas which makes it extremely dangerous. CO detectors can protect your family from deadly carbon monoxide gas. Fuel-burning appliances such as oil and gas furnaces, gas water heaters, gas ranges and ovens, gas dryers, gas or kerosene space heaters, fireplaces and wood stoves are all
sources of carbon monoxide.
A monitored carbon monoxide detector will alert you if high levels of this deadly gas are detected. Local building ordinances require the installation of carbon monoxide detectors in your home. An expert technician from Camflo Heating & Cooling can properly install your CO detector and ensure it's functioning correctly.
Plasma in it's simplest form is oppositely charged hydrogen and oxygen ions, also called bipolar ionization. These naturally occurring ions are artificially produced when a sufficiently high voltage is applied to a sharp point. The plasma, when produced and injected into a moving air stream, breaks down gases to harmless compounds prevalent in the atmosphere such as oxygen, nitrogen, water vapor and carbon dioxide. In addition to the reduction of gases and odors, plasma also reduces particulates and kills mold, bacteria and virus.  Click Here to download brochure.
Plasma Reduces Airborne Particles
The positive and negative ions are drawn to airborne particles by their electrical charge. Once the ion cluster is formed around the particle, the particle grows larger by attracting nearby particles and increases the filtration effectiveness.
Plasma Kills Virus, Bacteria and Mold - In the Space!
Positive and negative ions surround the pathogen. Next, the ions rob
the pathogens of the hydrogen necessary for them to survive. During the
final step, the ions eliminate hydrogen from the pathogen and then the
cleansing process is complete, making the airborne virus, bacteria or
mold spore inactive.