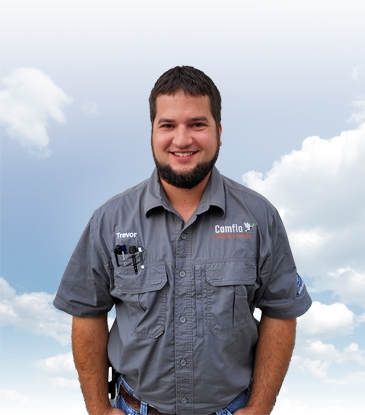 Trevor
Operations Manager
Air Conditioner Replacement in Lafayette, IN 47905
"Our air conditioner went out and also realized our furnace was shortly going to fail.
We found two estimates, (doing this all while my husband had to fly out of town for work) and the reason we went with Camflo was the genuineness of their interaction, quick service, personal care, knowledge of their product, respect of my home when they came in for diagnosis and estimate and installation, availability to have me ask any questions I wanted, and gave honest answers.
I even bought them lunch and they didn't come up to eat it until they were sure they had my install in a place where I would have air that day. They gave their word I would have air that day pending parts coming. They didn't eat until their labor kept that word.
We had a wonderful experience and are just trying out our new systems the last few days! We love they are a family owned business and came quickly when we needed them!"
- Amy K.
Boiler Repair in Burlington, IN 46920
- Mary K.
Air Conditioner Maintenance in Lafayette, IN 47905
"We are very satisfied with the customer service we receive from Camflo personnel. They are efficient, knowledgeable, considerate of property by wearing foot coverings, thorough, able to detect and repair problems, customer friendly, explain costs, and give you choices of payment.
Very pleased and would highly recommend them to anyone."
- Don and Janet C.
Heat Pump Installation in Flora, IN 46920
"Great team! Responsive and quality work- Very pleased with our HVAC whole house system and the ability to have dwpendable and knowledgable workers!"
- Vicki L.
Boiler Maintenance in Burlington, IN 46920
"Very prompt and professional"
- mary K.
Air Conditioner Installation in West Lafayette, IN 47906-4616
- Robert H.
Gas Furnace Maintenance in Burlington, IN 46915
"Trevor. Checked out everything and all is well. You are fortunate to such an honorable man to work for you"
- Kenneth H.
Heat Pump Maintenance in Lafayette, IN 47905
"We have been extremely well satisfied with the work of Marcus, who is a rare individual in this part of the country, in that he understands Heat Pump systems. Marcus is a good listener and was interested in the temperature log we kept, during the time we had issues with our system. We found him very willing to take a deep dive, figuratively speaking, in order to get to the root cause of the heating issue. Pleasant and accommodating, we look forward to having Marcus help us with any other heating system difficulties. We also found Weldon, the Service Manager, and Trevor, the Operations Manager, to be helpful and empathetic with our difficulty. I anticipate using Camflo Heating and Cooling for all of our maintenance and repair needs for our heating and cooling needs in the future."
- Doug J.
Heat Pump Replacement in Delphi, IN 47905
"After 22+years our old heat pump passed away. After doing a lot of homework and research we decided to go with carrier and camflo to replace the heat pump. Trevor was super in working with us to get us what we wanted and answer all my questions. Scott and Jonathan were the techs who undertook the project and did a fabulous job. They were professional knowledgeable and did a excellent job. Scott was super kind and even stayed late to show me the ins and outs w the thermostat. The new heat pump is working fabulous right out the gate with the frigid temps. What a difference! I don't do reviews but I had to crow about this. Thank you to all for a top notch job!"
- Michael S.
Gas Furnace Repair in Lafayette, IN 47905
"The last thing you need a week into December is to find out your furnace is not working. However, within a few minutes of sharing my situation with Trevor the anxiety began to lessen. I felt as if my problems had become his though I'd never met or spoken to him before. In fact I'd never done business with Camflo nor had I heard of them. Bottom line the people at Camflo will take care of your HVAC needs in a timely, courteous and professional manor. Thank you Trevor, Kirby, Justin, Reuben and everyone at Camflo."
- Byron B.