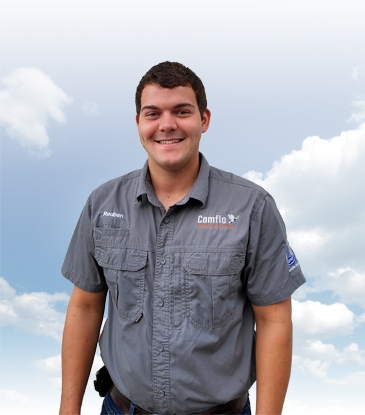 Reuben
Comfort Advisor
Air Conditioner Installation in Lafayette, IN 47909
"Wonderful local family business that really cares. Needed a new AC/furnace due to a power surge. Camflo was very responsive and made it a priority due to dropping Fall temps. Received a price quote for just what I needed: a basic system to comfortably heat/cool my 3BR ranch. No fancy upsell on devices not needed. They were able to hit my price range, no problem. Service costs came in well below two other major HVAC companies in my area. Service was smooth; installation quick in just one weekend. They even made sure that I received my rebate through my energy company. For something that is such a chore, this was the best possible experience! Thanks Camflo!"
- C M.
Air Conditioner Installation in Flora, IN 46913
"We could not be more pleased with our service from Camflo!! The staff is knowledgeable and efficient, which is very important to our family!! Highly recommend these guys!!"
- Troy R.
Heat Pump Installation in Lafayette, IN 47909
"We have been very pleased with the services provided by Camflo. From the times Reuben and Phil came to review the job specifics, through the installation by Scott and Brock, the service has been thorough, professional and prompt. That being said, the thing I was most impressed with was the attitudes of positivity, kindness and respect they showed my family and myself. I never felt like I left my home with strangers when they were there alone. That kind of trust is rare these days and we really appreciate it.
Thank you again for the top notch job and service on this project!
Troy Castor"
- Troy C.
Ductless System Installation in Rossville, IN 46065
"Camflo did an amazing job in our flip home installing a ductless AC unit. The entire system looks amazing! We will definitely use them again."
- Amanda O.
Gas Furnace Replacement in Frankfort, IN 46041
"Camflo Installed a new gas furnace for our home, and also we had them install a new Hot Dawg Power-Exhausted Gas-Fired Unit Heater for our garage. We were very happy with the service we received. Scott and Brock are very professional and more than willing to answer any and all questions we had on these two jobs. Such friendly and kind service is much appreciated. Reuben initially advised us as to his opinion what would be in our best interest for both jobs, gave us quotes, and then we made our selections. We give them a 5 star rating all across the board. We highly recommend Camflo for all your heating or cooling household projects."
- Martha E.
Air Conditioner Replacement in Kokomo, IN 46901
"Excellent service from trouble shooting to installation of new unit. Having the floor units to keep us cool until new unit could be installed helped tremendously.
Team members all were polite, professional young men. Keep up the great service Camflo!"
- Becky A.
Air Conditioner Replacement in Burlington, IN 46920
"Quick Response, Professional, & Friendly"
- Elijah & Alivia M.
Zone Control System Installation in Kokomo, IN 46902
- Troy C.
HVAC Installation in Kokomo, IN 46970
"Everything was done proper and cleaned up really good. The people know there business. Paid attention to there work quality. Communications was fast. Very happy with there work . Would use there services again. Staff very friendly and knowledgeable."
- Chad B.
Air Conditioner Repair in Delphi, IN 46923
"Great service! Showed up within the scheduled window. Justin took the time to answer my questions and make me comfortable with the recommended repairs. He also looked at other HVAC aspects of my house and called in for Reuben to get me a quote on those issues. Looking forward to a great relationship with my new HVAC company."
- Andy K.