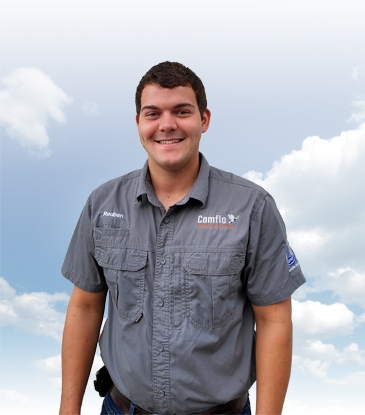 Reuben
Comfort Advisor
Air Conditioner Repair in Delphi, IN 46923
"Great service! Showed up within the scheduled window. Justin took the time to answer my questions and make me comfortable with the recommended repairs. He also looked at other HVAC aspects of my house and called in for Reuben to get me a quote on those issues. Looking forward to a great relationship with my new HVAC company."
- Andy K.
Gas Furnace Repair in Lafayette, IN 47905
"The last thing you need a week into December is to find out your furnace is not working. However, within a few minutes of sharing my situation with Trevor the anxiety began to lessen. I felt as if my problems had become his though I'd never met or spoken to him before. In fact I'd never done business with Camflo nor had I heard of them. Bottom line the people at Camflo will take care of your HVAC needs in a timely, courteous and professional manor. Thank you Trevor, Kirby, Justin, Reuben and everyone at Camflo."
- Byron B.
Humidifier Replacement in Battle Ground, 47920
"Justin was very pleasant and efficient, wore shoe covers, explained how everything worked including the thermostat control of the humidifier, cleaned up the area very well, and was an excellent representative for your company."
- Kenneth H.
Heat Pump Installation in Lafayette, 47905
"I was very impressed with the detail that Reuben provided during the process. First contact, information to the installer and his follow up appointment. During the installation the technician Scott was very knowledgeable and I was impressed with his detail. I am very impressed with Camflo as a company."
- Thomas D.