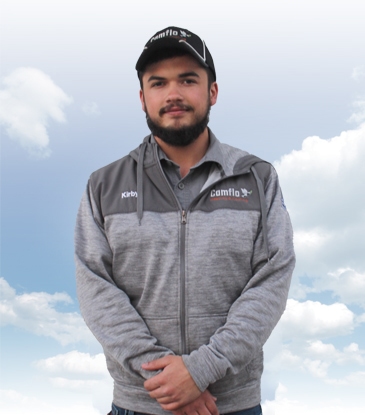 Kirby
Technician
Heat Pump Maintenance in Flora, IN 46929
"We asked to have a service inspection done on our heat pump to verify it and our furnace were working properly and had some questions answered that we did not understand. All was checked and working properly and learned where we needed our thermostat setting for better function of the system of our heat pump and gas heating . Like any new item there is a learning curve and we feel satisfied with help we got from the service technician. We are very satisfied with the Camflo and they have always come when we needed them and know what they are doing and if they have questions there is always someone to back the technician up as well."
- Lynn and Claudette B.
Heat Pump Maintenance in Flora, IN 46929
"I cannot believe the excellent service we have gotten from CAMFLO!! We have had Kirby twice now and he is excellent.. He is very good at explaining what he is doing and answering any questions that we have…I cannot say enough good about Kirby…Thank you Kirby for your excellent service…"
- Charlie and Marcia D.
Gas Furnace Repair in Flora, IN 46917
"Very nice, informative, and speedy! Furnace up and running in no time, thank you!"
- Jennifer G.
Air Conditioner Installation in Flora, IN 46913
"We could not be more pleased with our service from Camflo!! The staff is knowledgeable and efficient, which is very important to our family!! Highly recommend these guys!!"
- Troy R.
Gas Furnace Maintenance in Rossville, IN 46041
"Thorough job on all heating and cooling items. Kirby was knowledgable and took time to explain his findings, then let us make the decision to replace or try for 1 more year on the component."
- lewis F.
Gas Furnace Repair in Lafayette, IN 47905
"Great trouble shouting. Kirby did great job! Glad to get someone out same day I called"
- Kyle s.
Ductless System Maintenance in Delphi, IN 46923
"Kirby & Brian came to service our mini-split system. They were prompt, professional, thorough and courteous. All our questions were answered, units cleaned and inspected, system temp tested and monitored as well. As always, we highly recommend the Camflo crew and are happy to be a customer!"
- Thomas V.
Air Conditioner Repair in Monticello, IN 46947
"Central air unit went out during the hot weather. Called and got service the next day! Kirby and Brian were courteous and very knowledgeable. Explained problem and my options and had the air working within an hour. Many thanks! Definitely recommend and will utilize Camflo again!"
- Janet B.
Air Conditioner Maintenance in Lafayette, IN 47905
"Best ever. Honest, respectful, and most of all quality 5 star dependable service. Been with Camflo for a few years through replacements, repairs, Maintenance,and service.
A company you can trust. Wouldn't go anywhere else. Bravo to those at Camflo! Thank you!!"
- Elaine k.
Air Conditioner Repair in Lafayette, IN 47905
"Kirby did a great job. Our air conditioner got fixed and is working great!"
- Shari C.