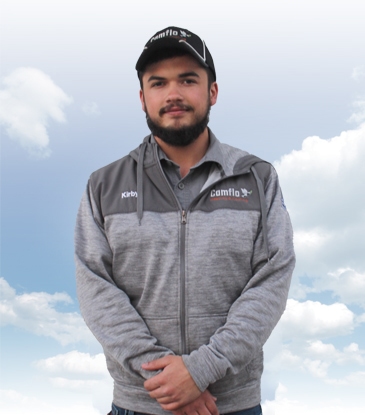 Kirby
Technician
Geothermal Heat Pump Repair in Burlington, IN 46913
"Super friendly office staff, scheduled our appointment right away! The technician was very professional, courteous and efficient! Luckily he had the parts with him and was able to fix our problem the same day! We always have great service when they come out! Very friendly, knowledgeable, efficient and reliable! Thank you so much for getting our repair done so quickly!"
- Amy S.
Maintenance in West Lafayette, IN 47906
"Good service always.
Polite and knowledgeable service men"
- Janet H.
Air Conditioner Repair in Flora, IN 46913
"I have used Camflo several times over the last few years, I have units at my home and several at my business location. They have treated me fair and have been honest in their evaluation and repair of my equipment. I would recommend them for any job large or small."
- Shawn W.
Heat Pump Maintenance in Burlington, IN 46913
"Very pleased with Kirby"
- Bill J.
Air Conditioner Maintenance in Flora, IN 46929
"My service today was excellent as well as in the past…Kirby was very informative and courteous…Charlie and I have never had such excellent service from anyone…We would highly recommend Camflo Heating and Cooling…"
- Marcia G.
Air Conditioner Maintenance in Burlington, IN 46913
"Kirby was very courteous, polite and arrived on time. He informed us of accessories that were available to us, discussed their benefit but did not pressure us to buy them. We were very pleased with his overall efficiency and professionalism."
- Richard J.
Gas Furnace Repair in Monticello, IN 47960
"Great service…called at 9AM about a faulty thermostat. Kirby arrived at 3:30PM same day. Problem solved. Very satisfied"
- Kurt W.
Gas Furnace Repair in Burlington, IN 46920
"Kirby, the Camflo tech, had his test today with my furnace…it was a challenge and he past with flying colors. He was very professional and easy to communicate with"
- John C.
Gas Furnace Repair in Lafayette, IN 47905
"The last thing you need a week into December is to find out your furnace is not working. However, within a few minutes of sharing my situation with Trevor the anxiety began to lessen. I felt as if my problems had become his though I'd never met or spoken to him before. In fact I'd never done business with Camflo nor had I heard of them. Bottom line the people at Camflo will take care of your HVAC needs in a timely, courteous and professional manor. Thank you Trevor, Kirby, Justin, Reuben and everyone at Camflo."
- Byron B.
Gas Furnace Repair in Delphi, 46923
"Kirby was very nice an took his time to explain our problem."
- Glenda h.