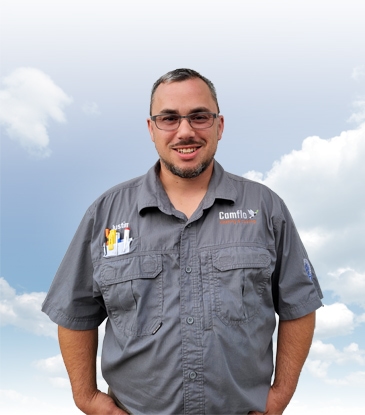 Justin
Technician
Air Conditioner Repair in Delphi, IN 46923
"We woke up on what was to be the hottest day of the year to no air conditioning. We called right after 7:30 and Justin was at our house at 10:30. Justin was able to quickly diagnose the problem and had us up and running in a short time. Justin was friendly and very knowledgeable. I would recommend Camflo to anyone needing an air conditioner repair"
- Eric s.
Geothermal Heat Pump Repair in Delphi, IN 46923
"Justin was knowledgeable, friendly, and professional. He found and fixed the problem quickly and made sure everything else was working properly. He wasn't pushy, but did a good job relaying the value of the service contract which I bought."
- John S.
Air Conditioner Repair in Rossville, IN 46920
"He found the problem and did everything he could to let us still be able to use our air conditioning but let us know we shouldn't let it run very long at a time because it could cause more problems. I appreciate him trying since my husband has breathing problems and the humidity is what hurts him more than the heat. He was a very nice gentleman and was very good at explaining what he was doing and what was wrong."
- Nola T.
Gas Furnace Maintenance in Mulberry, IN 46058
"We have been so pleased with the service we have received from Camflo over the years. This year's maintenance appointment also lived up to our high expectations! Justin was incredibly thorough in checking all of our systems, conducted an indoor air quality test and reviewed the results with us, and explained our services plan options for the next year. I would give them 10 stars if I could. This team is the best! 100% reliable and trustworthy."
- Todd H.
Heat Pump Maintenance in Burlington, IN 46913
"We were completely satisfied with today's visit by Justin. He was very thorough and explained what was needed and got our system working as it is supposed to. He didn't try to upsell anything and explained items to be watching that need addressed in the future. It was a pleasure to have him service our system so professionally. Hopefully, we can have him back next time! The cost of the service was very reasonable. Thanks Camflo! Proud to support local business!"
- Bill C.
Air Conditioner Repair in Flora, IN 46920
"Same day service in the heat of summer. Incredible. Justin was very informative about the repair. Had cold AC after a quick recharge."
- Shawn W.
Gas Furnace Maintenance in Monticello, IN 47960
"Excellent first time experience with Camflo. Starting with their extremely helpful, courteous and friendly receptionist. She did everything possible to help us. Both Titus and Justin arrived in the designated time frame I was told. They explained everything they were going to do as well as the results of the diagnosis of our furnace/AC. I would highly recommend based on my first experience with Camflo."
- Steve H.
Geothermal Heat Pump Maintenance in Burlington, IN 46920
"Justin was our technician today. He's been an important part of the installation and follow up of our new system. He's been very courteous, knowledgeable and prompt. Very pleased with our new system and him as our technician. 😊"
- Sandra W.
Air Conditioner Maintenance in Battle Ground, IN 47923
"Extremely thorough maintenance. Spent a long time here. Very courteous and personable person. Was complementary and specifically so. Made a general statement about something he liked about my property and then was even more specific. This is not a common trait in most people very much appreciated."
- Vivian R.
Air Conditioner & Furnace Maintenance in Rossville, IN 46065
"Justin came to the house to service my air conditioner last week, and he had been there previously. On both visits I found him to be knowledgeable, efficient, and friendly. On the previous visit, I really appreciated the way he routed a new waste water line while installing a new pump for the furnace. He followed existing pipes as much as possible, and made it as unobtrusive and invisible as possible, which was wonderful. Thank you to Justin and Camflo Heating and Cooling for another job well done!"
- Maureen S.