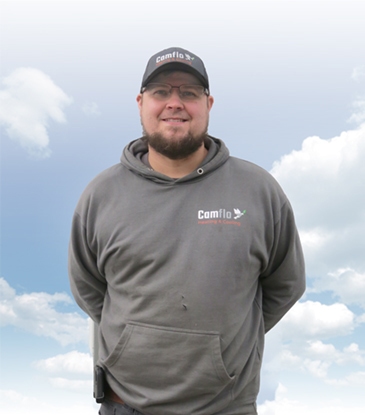 Jonathan
Lead Install
Oil Furnaces Installation in Flora, IN 46939
"The guys doing the installation were very professional. Kept me informed about their progress. The girls in the office are very helpful also."
- Janis b.
Air Conditioner Installation in Flora, IN 46913
"We could not be more pleased with our service from Camflo!! The staff is knowledgeable and efficient, which is very important to our family!! Highly recommend these guys!!"
- Troy R.
Air Conditioner Installation in Flora, IN 46913
"Jonathan and Zander (I think) came out to install our a/c unit and heat pump. They were on time and got started immediately. Very nice guys and great to work with. I figured it would be all day and maybe even part of another day, but they were done in good time. A great job done by great guys. Thanks."
- Sean M.
Air Conditioner Replacement in Lafayette, IN 47905
"Our air conditioner went out and also realized our furnace was shortly going to fail. We found two estimates, (doing this all while my husband had to fly out of town for work) and the reason we went with Camflo was the genuineness of their interaction, quick service, personal care, knowledge of their product, respect of my home when they came in for diagnosis and estimate and installation, availability to have me ask any questions I wanted, and gave honest answers. I even bought them lunch and they didn't come up to eat it until they were sure they had my install in a place where I would have air that day. They gave their word I would have air that day pending parts coming. They didn't eat until their labor kept that word. We had a wonderful experience and are just trying out our new systems the last few days! We love they are a family owned business and came quickly when we needed them!"
- Amy K.
Heat Pump Installation in Rossville, IN 46065
"Installers showed up early, stayed late to ensure we had ac. Came back to finish up and we couldn't be happier. Impressed by the low noise level of the Carrier. Outside heat pump was super quiet. The work the installers did was professional and they acted professional. Would definitely recommend. 🙂"
- Christopher M.
Ductless System Installation in Rossville, IN 46065
"Camflo did an amazing job in our flip home installing a ductless AC unit. The entire system looks amazing! We will definitely use them again."
- Amanda O.
Air Conditioner Installation in Delphi, IN 46924
"As always the guys were attentive and polite. They always do a good job of answering our questions. They get to work and get the job done. Thank-you"
- Steve W.
Air Conditioner Replacement in Kokomo, IN 46901
"Excellent service from trouble shooting to installation of new unit. Having the floor units to keep us cool until new unit could be installed helped tremendously. Team members all were polite, professional young men. Keep up the great service Camflo!"
- Becky A.
Gas Furnace Installation in Flora, IN 46929
"The installers were very professional courteous and informative. Cleaned up afterwards. Rubin did a follow up, very satisfied with the whole company and their entire staff !!!! 🙂🙂🙂😁😁"
- Michael H.
Air Conditioner Replacement in Burlington, IN 46920
"Quick Response, Professional, & Friendly"
- Elijah & Alivia M.