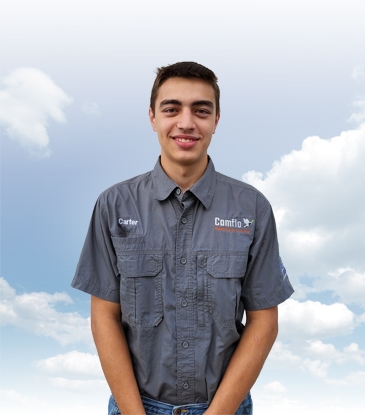 Carter
Technician
Air Duct Maintenance in Delphi, IN 46923
"Carter and Malachi were very pleasant and did a professional and efficient and thorough job cleaning our air ducts and dryer vents. We are happy with the service we received! Thank you!"
- Sarah R.
Air Conditioner Maintenance in Logansport, IN 46947
"Yesterday's service call with Carter was a great experience, Carter was on time with when he said he would arrive, was very respectful and knowledgeable in what we were trying to accomplish. This was my first time using Camflo as a service provider and we will definitely be using Camflo in the future."
- Eric C.
System Maintenance in Flora, IN 46913
"Good job on everything. Thanks"
- Kyle O.
Heat Pump Repair in Delphi, IN 46923
"Thorough and good to work with."
- Philip G.
Ductless System Maintenance in Frankfort, IN 46041
- Ted C.
Boiler Repair in Delphi, IN 46923
"Carter was very kind, And very professional. This is the second time Camflo has came out every Experience has been pleasant. Thank you"
- Andrea S.
Gas Furnace Repair in Flora, IN 46929
"Carter arrived 1 1/2 hours before appointment time, found the problem quickly and was finished in about 10 minutes. Great first visit, thank you!"
- Kent M.
Gas Furnace Maintenance in West Lafayette, IN 47906
"Carter did an excellent job servicing, both our air conditioners and furnaces along with our humidity system."
- robert r.
Gas Furnace Repair in Delphi, IN 46923
"Carter repaired a leaking main pipe to the furnace. He explained what he found and what needed done along with what the cost was going to appropriately be. Thank you!"
- Stella M.
Air Duct Maintenance in Lafayette, IN 47905
"Brian and Carter worked on cleaning our air ducts on Monday and did an awesome job. Then on Wednesday, we had Brian and Justin out to do a tune up for the rest of our heating and cooling services. They were quick to respond and had great customer service. They were informative and easy to get along with! 10/10 would have them back for future services."
- Kayla C.