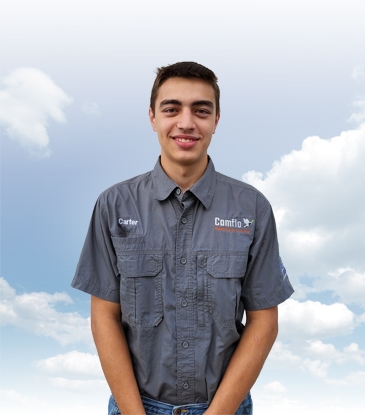 Carter
Technician
Gas Furnace Maintenance in West Lafayette, IN 47906
"Carter did an excellent job servicing, both our air conditioners and furnaces along with our humidity system."
- robert r.
Gas Furnace Repair in Delphi, IN 46923
"Carter repaired a leaking main pipe to the furnace. He explained what he found and what needed done along with what the cost was going to appropriately be.
Thank you!"
- Stella M.
Air Duct Maintenance in Lafayette, IN 47905
"Brian and Carter worked on cleaning our air ducts on Monday and did an awesome job. Then on Wednesday, we had Brian and Justin out to do a tune up for the rest of our heating and cooling services. They were quick to respond and had great customer service. They were informative and easy to get along with! 10/10 would have them back for future services."
- Kayla C.
Air Conditioner Replacement in Lafayette, IN 47905
"Our air conditioner went out and also realized our furnace was shortly going to fail.
We found two estimates, (doing this all while my husband had to fly out of town for work) and the reason we went with Camflo was the genuineness of their interaction, quick service, personal care, knowledge of their product, respect of my home when they came in for diagnosis and estimate and installation, availability to have me ask any questions I wanted, and gave honest answers.
I even bought them lunch and they didn't come up to eat it until they were sure they had my install in a place where I would have air that day. They gave their word I would have air that day pending parts coming. They didn't eat until their labor kept that word.
We had a wonderful experience and are just trying out our new systems the last few days! We love they are a family owned business and came quickly when we needed them!"
- Amy K.
Air Conditioner Maintenance in Rossville, IN 46920
"On time. Professional. Kept me advised of process/progress."
- Bill S.
Air Conditioner Maintenance in Flora, IN 46929
"Very professional and knowledgeable"
- Andrew G.
Air Conditioner Maintenance in Burlington, IN 46920
- Gary B.
Air Conditioner Repair in Flora, IN 46929
"We appreciate the quick service and the knowledge and courtesy of the employees."
- Dennis D.
Air Conditioner Repair in Delphi, IN 46923
"My a/c unit quit blowing out cold air. Called camflo and they were out to my house quickly. Carter came out and was quick to diagnose the problem and had it fixed in no time. Great service and great people. Thanks Camflo & Carter for great service!"
- Brodie B.
Heat Pump Installation in Flora, IN 46920
"Great team! Responsive and quality work- Very pleased with our HVAC whole house system and the ability to have dwpendable and knowledgable workers!"
- Vicki L.