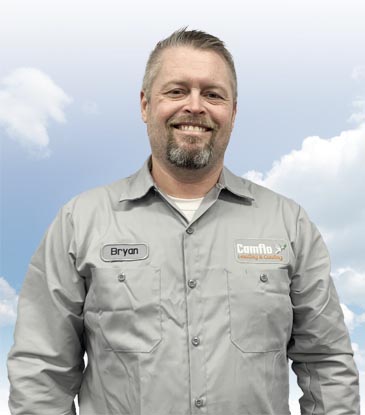 Bryan
Comfort Advisor
Air Conditioner Repair in Mulberry, IN 47930
"Bryan did a fantastic job answering our emergency issue and then fixing it quickly!"
- Joe S.
Air Conditioner Maintenance in Rossville, IN 46065
"Very professional and wastes no time. Very nice."
- Gary H.
Air Conditioner Installation in West Lafayette, IN 47906
"We have appreciated working with Bryan. He is very personable and takes the time to explain everything that he has done and how to care for the equipment installed. Camflo is a great company–they respond to calls and texts quickly and have never let us down."
- Marcia S.
Gas Furnace Installation in Flora, IN 46929
"Kirby was the first to show up (within a couple of hours), followed by Bryan. It was determined that I needed a new furnace/ac unit. During the course of a few days, ALOT of work was going on, both inside and out by several technicians. Camflo provided space heaters (which we much appreciated). I was kept appraised of the situation/work being done throughout. I HIGHLY recommend Camflo and their techs – GOOD JOB, GUY'S, GOOD JOB!"
- brenda p.