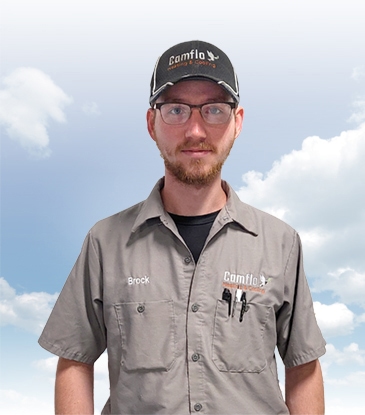 Brock
Apprentice
Air Duct Repair in Burlington, IN 46915
"Scott and Brock did an amazing job cleaning my ductwork and making some major repairs. I am very impressed with the quality of work and when they left, I couldn't even tell they had been in my house."
- Al R.
Heat Pump Installation in Lafayette, IN 47909
"We have been very pleased with the services provided by Camflo. From the times Reuben and Phil came to review the job specifics, through the installation by Scott and Brock, the service has been thorough, professional and prompt. That being said, the thing I was most impressed with was the attitudes of positivity, kindness and respect they showed my family and myself. I never felt like I left my home with strangers when they were there alone. That kind of trust is rare these days and we really appreciate it.
Thank you again for the top notch job and service on this project!
Troy Castor"
- Troy C.
Gas Furnace Replacement in Frankfort, IN 46041
"Camflo Installed a new gas furnace for our home, and also we had them install a new Hot Dawg Power-Exhausted Gas-Fired Unit Heater for our garage. We were very happy with the service we received. Scott and Brock are very professional and more than willing to answer any and all questions we had on these two jobs. Such friendly and kind service is much appreciated. Reuben initially advised us as to his opinion what would be in our best interest for both jobs, gave us quotes, and then we made our selections. We give them a 5 star rating all across the board. We highly recommend Camflo for all your heating or cooling household projects."
- Martha E.
Gas Furnace Replacement in Frankfort, IN 46041
"We have had the best service anyone could ask for. Scott and Brock are very kind and I have a lot of questions, as I'm learning how things work on a mechanical level. They are always pleasant to answer and I appreciate their time. This is the second day they have come to work on the installation of a new furnace and their work ethic is phenomenal. Scott is mentor to Brock and they work well together. You can tell that Scott takes pride in his work and Brock is anxious to learn. We appreciate their hard work and dedication to the job. We will see them back here on Monday, as they finish with the new furnace installation. We are also purchasing a new ceiling heater for the garage, which should be on the schedule when the furnace project is complete. We are grateful to have found such a professional company in Camflo. We heard about your company thru our son Bryce Eaton and my sister Stephanie Crum. We will continue to pass along your good name. Sincerely, Martha Eaton"
- Martha E.