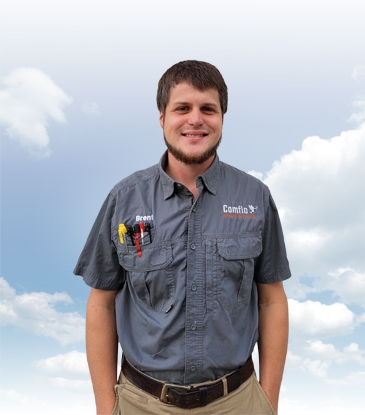 Brent
Lead Install
Boiler Installation in West Lafayette, IN 47906
"When I needed to replace a 17-year old boiler with a new one, I called Camflo and immediately things began to happen. After discussing with Reuben my options (he took time to explain everything to me and answered all my questions), thus I was able to make a confident choice.

Then Brent with two assistants arrived and began the work. They were polite, efficient, neat, and above all professionals. All along they checked with me as to what I would like and how I would prefer things to be done and/or adjusted. The end result is perfect. I couldn't be happier.

Brent is an amazing technician and he did an excellent job On a scale of 1 to 10, I give him a 13! I am very happy with the new heating system. Thank you Brent and the entire team at Camflo!"
- Zinaida B.
Boiler Installation in West Lafayette, IN 47906
"When I needed to replace a 17-year-old boiler with a new one, I called Camflo and immediately things began to happen. After discussing with Reuben my options (he took time to explain everything to me and answered all my questions), thus I was able to make a confident choice.

Then Brent with two assistants arrived and began the work. They were polite, efficient, neat, and above all professionals. All along they checked with me as to what I would like and how I would prefer things to be done and/or adjusted. The end result is perfect. I couldn't be happier.

Brent is an amazing technician and he did an excellent job. On a scale of 1 to 10, I give him a 13! I am very happy with the new heating system. Thank you Brent and the entire team at Camflo!"
- Zinaida B.
Geothermal Heat Pump Installation in Delphi, IN 46923
"Superb work and attention to detail by Brent and Jennings. Our new geothermal installation required the planning and strategy that the team brought to the project. We are very pleased with all the attention to detail that is evident from the good work that was done."
- Alan s.
Air Conditioner Installation in Flora, IN 46985
"Technicians who installed dual-zone control board onto our AC system were very professional, knowledgeable and polite. They answered all of our questions about the new equipment as well as other optional add-ons for us to consider. We will continue using Camflo for all our HVAC needs."
- Steve M.
Geothermal Heat Pump Installation in Monticello, IN 47926
"The technicians were very cordial and knowledgeable. Worked very diligently to install the new heat/air unit. I am very pleased with the service given! I would definitely recommend Camflo!"
- Kathy S.
Air Conditioner Installation in Flora, IN 46929
- Bethellen R.