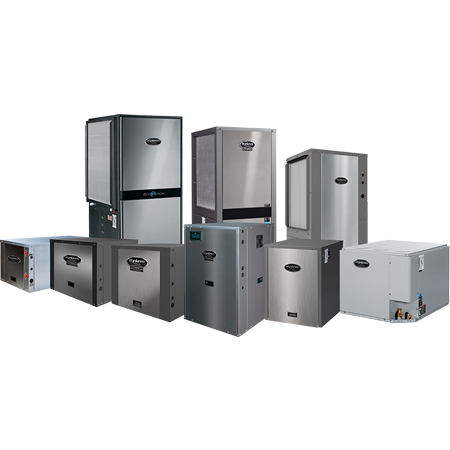 The Earth absorbs almost 50% of all solar energy and remains a constant temperature of 50°F to 70°F depending on geographical location. You can realize up to 60% energy savings vs. traditional systems. There is no flame, no flue, no odors and no loud outdoor equipment. Heating, air conditioning and hot water can all be attained from a single compact unit.
To access these natural resources, replace your traditional furnace or air conditioner with a geothermal heat pump. Geothermal heat pumps supply heating, air conditioning, and hot water for homes and buildings using the solar energy stored beneath the ground. A geothermal unit utilizes this constant temperature for heating and cooling your home.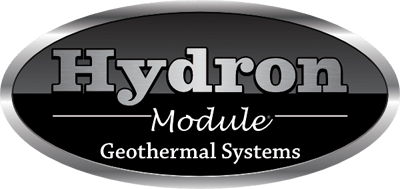 Click the Hydron Module Logo above for the
"Homeowner's Guide to Geothermal Heating, Cooling and Hot Water Systems."
All-In-One Geothermal Product Offering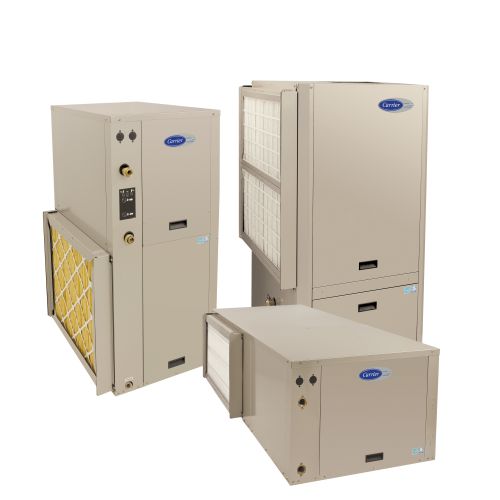 Infinity® Series Geothermal Heat Pump
View Brochure
Model Family: GC
Closed Loop Cooling Efficiency: Up to 32.0 EER
Closed Loop Heating Efficiency: Up to 4.7 COP
Energy Star Rated: ENERGY STAR®
Refrigerant Type: Puron®
Sound Level: Quiet operation
Blower Motor: Variable-speed blower
Compressor: Two-stage compressor
Factory Warranty Parts: 10 year parts limited warranty 5 year labor limited warranty
Factory Warranty Compressor: 10 year parts limited warranty 5 year labor limited warranty
Manufacturer's Stated Benefits:
Open loop cooling: Up to 37.0 EER
Open loop heating Up to 5.2 COP
Summer dehumidification is compressor and blower motor enhanced
Excellent cold weather performance
Sound enhancements: Fully insulated cabinet, compressor blanket and double-isolation compressor mounting system
Microprocessor control board
Recommended control: Infinity control
Optimal humidity and temperature control when managed by the Inifinty Touch control
Large operating temperature range
Corrosion-resistant air coil for long life
Stainless steel drain pan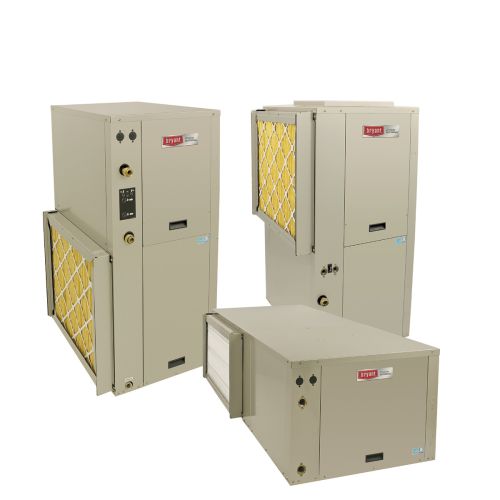 Performance™ Series Geothermal Heat Pump
View Brochure
Model Family: GP
Closed Loop Cooling Efficiency: Up to 24.5 EER
Closed Loop Heating Efficiency: Up to 4.0 COP
Energy Star Rated: ENERGY STAR ®
Refrigerant Type: Puron®
Sound Level: Ultra quiet fan sound levels
Blower Motor: Variable-speed blower motor
Compressor: Two-stage scroll compressor
Factory Warranty Parts: 10-year parts and labor limited warranty upon registration
Factory Warranty Compressor: 10-year parts and labor limited warranty upon registration
Manufacturer's Stated Benefits:
Summer dehumidification is compressor and blower motor enhanced
Excellent cold weather performance
Sound enhancements: Fully insulated cabinet, compressor blanket and double-isolation compressor mounting system
Comfort Alert™ compressor diagnostics
Microprocessor control board
Recommended control: Performance™ Edge® relative humidity thermostat
Heavy-duty, galvanized steel cabinet
Baked on urethane base coat and polyester top coat paint in taupe metallic
Large operating temperature range
Corrosion-resistant air coil for long life
Stainless steel drain pan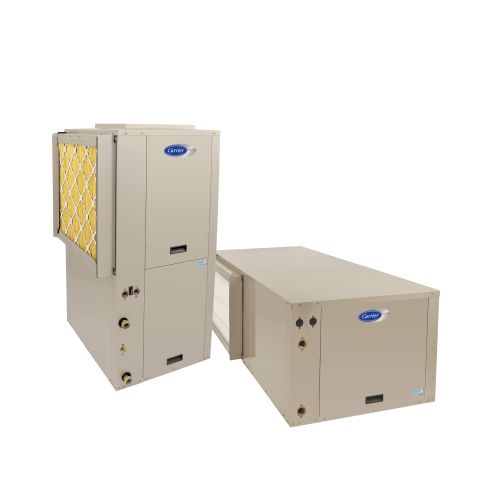 Comfort™ Series Geothermal Heat Pump
View Brochure
Model Family: GB
Closed Loop Cooling Efficiency: Up to 21.7 EER
Closed Loop Heating Efficiency: Up to 4.3 COP
Energy Star Rated: ENERGY STAR ®
Refrigerant Type: Puron®
Sound Level: Quiet operation
Blower Motor: Multi-speed blower
Compressor: Single-stage scroll compressor
Factory Warranty Parts: 10-year all parts and 5-year labor limited warranty upon registration
Factory Warranty Compressor: 10-year all parts and 5-year labor limited warranty upon registration
Manufacturer's Stated Benefits:
Excellent dehumidification and temperature control
Insulated cabinet for quiet operation
Large operating temperature range
Corrosion-resistant air coil for long life
Stainless steel drain pan
Microprocessor control for precision operation